Direct Affiliate ||
In our previous article, we covered the various ways you can optimize organic content on Twitter. However, that's only part one of a multi-pronged strategy. To stay at the top of your game, there are paid tactics to employ as well. Additionally, with how new Twitter features are being released almost every other month this year, there's just so many more opportunities and strategies to consider.
Here, in part II of our Twitter Marketing guide, we delve into detail the ways you can further your marketing and monetization on this platform.
CONTENT PAGE:
Twitter's Demographic
When it comes to advertising, one of the most key elements is the audience. What kind of audience can we reach on Twitter, compared to that of other social media platforms? According to Investopedia, Facebook has an overall broad appeal across ages; Instagram tends to be favoured by the young; whilst Twitter has a whooping 45% of users between ages of 18-24, and 33% of them falling between 25-29.
It is also the preferred social media of college graduates. 42% of US Twitter users are found to have attained a college degree, compared to 31% of Americans. In terms of income, Twitter users in the United States are found to be making 9% above the market average.
Of course, it's not just the US using Twitter. While 69.3 million of them make up the largest segment of the user base, Japan closely follows at 50.9 million, followed by India, UK and Brazil. Countries with between 10 to 15 million Twitter users include Indonesia, Turkey, Saudi Arabia, Mexico. Countries with between 5 to 10 million Twitter users include France, Philippines, Spain, Thailand, Canada and Germany and South Korea.
If you're keen on reaching audiences within the countries listed above, Twitter is definitely a platform to employ in your strategy. If you're looking at an audience profile that ✅has a higher degree of education ✅has above average spending power ✅is within the Gen Z and Millennial age group, Twitter is key.
The distinction in demographics likely stems from how these social platforms are used to different functions. Facebook's primary function is to connect with friends and family, whereas Twitter is meant for sharing ideas. In comparison to Instagram, Twitter is optimized to share trends and ideas around the world, as compared to best photos and videos.
46% of Twitter users use Twitter daily, with 81% of millennials checking it at least once daily. In alignment to its purpose of sharing, 74% of users turn to Twitter to get their dose of news. More importantly a quantitative survey by Twitter found that a whopping 93% of community members would be open to brands being involved with the community. Naturally it also means brands have to come across as authentic and be able to commit in the form of actionable engagements and not merely words.
In terms of advertising, consumers prefer to be involved in the process, particular that of Gen Z. Having grown with the digital age, they expect brands to fully engage in conversations, with 76% buying products to support a brand commitment to issues they align with. Advertising in 2021 must now shift from transactional to storytelling as a result of co-creation with the community. The Twitter team themselves recognize this, and have aligned the platform's paid offerings to facilitate it.
Unique Advertising Capabilities
As mentioned in our previous article about Twitter's algorithm and best practices, Twitter very recently recategorized their paid advertising options. These changes will gradually be reflected in the campaign manager:
Twitter possesses unique capabilities, which work better for certain industries and different types of content and campaigns. A deeper understanding will help to create a unique marketing strategy, optimizing Twitter as a platform.
Here's how Twitter's self-serve advertising options stand out from other social media platforms:
1) Targeting by Follower Lookalikes
Twitter provides the option to target follower lookalikes of other Twitter accounts. This enables you to reach users with interests similar to another account's followers, determined through signals such as what they RT, click, tweet and interact with.
This tool enables you to work off a competitors' follower base, and reach a similar audience. If you've just started growing your Twitter presence, this feature will definitely come in handy. They can even provide you with handle recommendations, after you've selected a few in the campaign manager. 30 @handles is the recommended number to target.
Note that targeting off an account with a huge amount of followers does not necessarily give the best results. We find that targeting niche accounts with smaller audiences and better engagement to follower rates work better.
2) Flexible Keyword Targeting
If you have experience with Facebook advertising, you'll know that you can only target by user interests in topics predefined by Facebook. With Twitter you can target whatever keyword or phrase you can type out in the ad manager. The world is your oyster, and the sky is your limit.
This enables you to target specific hashtags, slang, memes, and viral phrases that come into and fall out of trend quickly. Twitter is a fast-paced communications platform and the flexibility of their ad options support advertisers suitably.
3) Tweet Retargeting
You are also able to retarget users who have engaged with your past organic tweets as a whole, as well as tweets under a specific campaign.
While Facebook allows retargeting based on different types of actions taken on their various channels such as Facebook Pages, Instagram and Messenger, they can only be applied broadly. Twitter's campaign-specific retargeting can be harnessed for sequential marketing, to build a brand story or narrative, engaging only with the most relevant users.
Currently, on Facebook, this degree of specificity in retargeting can only be achieved by targeting people who have viewed specific video content of yours.
4) Conversation Settings for Ads
Twitter now even allows for privacy settings on their tweets and ads. Advertisers can now select between making their tweets publicly engageable, or limiting it to those they follow and/or mention. This enables better control over conversations on Twitter, preventing spambots, antis and strangers from cluttering or "ratio"-ing an important Twitter thread.
This function has been employed in BLM conversations and panel discussions.
5) High Traffic & Lead Generation
By and large, it's agreed on that Twitter is able to bring in big amounts of traffic for advertisers at an affordable rate. Compared to Facebook, Instagram and LinkedIn, Twitter is found to have the cheapest average CPM ($6.46) and CPC ($0.38). For reference, Facebook itself has an average CPM of $7.19 and CPC of $0.97, which is almost 2.5 times that of Twitter's.
In addition, Twitter has no minimum campaign spend, which is great news for small businesses with low budgets. Depending on the currency being charged, Facebook and Instagram have a minimum $1 per day charge for impression-charged ads, which goes up to $5 or even $40 a day, depending on the CPA model.
While Twitter's total user size might be smaller than Facebook or Instagram, it's a viable and, most importantly, affordable advertising platform if you're looking for clicks, traffic and lead generation, especially since they operate on a pay for performance ad model.
---
Aside from the standard self-served ad options, entirely unique to Twitter are: Twitter Amplify, Twitter Takeover and Twitter Live. These options are advertising of a higher level, providing a larger than usual degree of influence and direct connection with relevant users and content. Of course, these ad options are of a different price range entirely. Promoted Trends are reported to cost about $250,000 per day.
While not as accessible and likely not as applicable to the lay-marketer, we delve into these offerings to get a sense of how Twitter positions itself apart from other platforms.
6) Twitter Amplify
This is all about optimizing video content. There are two options to choose from: 1) Amplify pre-roll, that allows advertisers to select the type of videos their video ads will be attached to. This gives marketers control over what gets associated with their business and ad, preventing ironic situations where, say, an ad about junk food gets shown on a video about healthy eating. 2) Amplify Sponsorship, which is Twitter's inbuilt means to connect businesses with publishers/influencers/content creators, one to one.
7) Twitter Takeover
This offering allows advertisers a chance to take over Twitter 1) Timelines and 2) Trends, appearing at the forefront of various Twitter channels. When taking over timelines, an advertiser's ads will be the first thing users see logging into Twitter. When taking over Trends, the ads will be shown in the Explore tab, along with the current trends of the day.
8) Twitter Live
With this advertising option, advertisers can reach their audiences real-time through promoted live broadcasts.
---
Now you know what sets Twitter apart from other platforms, in terms of the audience and paid advertising capabilities. What about monetization strategies? What can you concretely do to earn an income with Twitter?
Affiliate Marketing & Monetization
We break it down into onsite and offsite possibilities. They are categorized by whether the monetization occurs entirely within Twitter, or if it's part of a larger funnel that involves external platforms as well. A huge opportunity lies in affiliate marketing, which we discuss under 1), 4) and 5).
1) Onsite: Build a Dedicated Niche Account
This is by far the most common affiliate marketing strategy on any social platform. Do research on what's trending, decide on a viable niche, and create an account dedicated to it. Produce relevant quality content and grow the account. Review and recommend associated products, dropping your affiliate links.
It's recommended that you be upfront about earning affiliate commissions as well, lest people think you're being underhanded. To save on the 280 character limit you have per tweet, you can simply add a note in your profile, or pin a tweet about it.
Like LinkedIn, Twitter has its own automatic link shortening service. When inserting a URL into your tweet's text, there's no need to manually shorten your links to hide your affiliate information, unless you're after a specific vanity URL. Another way to attach your link is to use the new and improved Tweet Composer. With it, you can easily create organic or promoted tweets with cards attached to them, which are clickable images/videos. This frees up character space in your tweet, allowing you more room to craft your message.
However, for this method, high investment will be required to produce quality, value-added content on the regular. Time will be needed to grow the account and build a follower base as well.
Some accounts that have successfully employed this method include:
World and Science – An account dedicated to sharing interesting science news with about 2.1 million followers. They sometimes drop affiliate links to books, ebooks and gadgets.
In Otter News…., that exclusively features "water sausages", as they call them. Aside from sharing cute otter pics and memes, they also share affiliate links to otter-related merchandise and decor.
Nintendo Wire, an account that tweets about the latest Nintendo news, is also an Amazon affiliate. They share Nintendo game related figurines and other merchandise to their 84K followers, such as the one below:
Similarly, Wire Deals shares video game deals along with other related merchandise through their affiliate links. In fact, this account focuses exclusively on sharing sale listings and nothing else.
2) Onsite: Get Paid to Tweet
After accumulating a decent following on Twitter, you can go even further as a Twitter influencer and earn commissions through your posts. One way to connect with relevant brands and businesses is through the platform, SponsoredTweets. This service allows brands and businesses to tap into an influencer's Twitter stream and reach out to their followers.
Getting paid for your tweets is definitely an option to keep in mind, especially since Twitter is set to roll out payment tools onsite. Twitter is currently developing Tip Jars and Super Follows, which we cover in more detail below (#LINK). With them, users can request for donations to keep tweeting what they're tweeting, or charge followers for access to additional content.
3) Onsite: Get Paid to Create
As part of Twitter Amplify which we mentioned earlier (#LINK), video content creators can monetize videos and broadcasts through Amplify Pre-roll, and work with brands and businesses directly through Amplify Sponsorship.
For Amplify Pre-roll, publishers simply have to check the videos that they would like to monetize, specify which countries they should be available in, tag their content with relevant categories, and they're good to go. Under Sponsorship, publishers have to tweet the video, check the "monetize this video" option, and select the relevant sponsorship package they were offered.
In order to qualify for the program, publishers have to meet the following requirements:
Be verified and in good standing
Publish brand-safe content according to Twitter's Ad content guidelines
Accept the Amplify Publisher Program Terms & Conditions
Be an active video publisher
Most content must be original and native to Twitter
Content must be of high quality
Be based in: Australia, Brazil, Egypt, France, India, Indonesia, Korea, Republic of Kuwait, Lebanon, Malaysia, Mexico, Philippines, Qatar, Saudi Arabia, Spain, Thailand, United Arab Emirates, United Kingdom
4) Offsite: Drive Traffic to External Websites
In this method, you use Twitter as a supporting tool. Take advantage of Twitter's huge user base to drive traffic to a platform you are already monetizing – a blog, website, forum, shop etc.
Aside from using organic strategies such as hashtags and keywords to maximize reach, you should take advantage of Twitter's low CPC ads as well. Consider running ads for affiliate offers, leading traffic through a funnel. Create effective prelanders and landing pages, optimized for conversions. As with most social media platforms, it's not advisable to use affiliate links directly in ads. It won't convert well, and you risk getting your tweet flagged as spam and halted.
Twitter's flexibility in the keywords you can target makes it perfect for marketing niche products, and targeting specific audience segments. However, with its short-form content format, it also encourages quick consumption. Its users have short attention spans and scroll quickly. It's crucial to have a singular, clear call to action with compelling value propositions. Make sure the CTA and messaging is consistent through your tweet ad, prelander, and landing pages.
5) Offsite: Lead Generation & Email Marketing
In this option, you work off 4) driving traffic to an external site. However, the end goal is to collect leads and curate an email list, which you can follow up with email marketing.
In the past, Twitter used to have ads and cards formatted specifically for lead generation, allowing businesses to collect personal information from users directly on the platform. It was similar to Facebook's inbuilt lead generation form. However, for reasons unspecified, they were phased out in 2016. Currently, the only means to collect leads is to send traffic to an external lead form.
The same tips for driving traffic from Twitter holds. Whether you're running paid ads to do this or not, make sure there is a clear CTA for users to subscribe and sign up for your email list through the flow from your tweet and/or twitter profile, landing page and lead form. Take advantage of the link in your profile and pinned tweet to strongly feature your signup link. If you have more than one URL that is important to your business, try using site aggregators such as carrd.co and linktr.ee.
Employ enticing lead magnets and value propositions, such as a free guide or discount. Optimize your lead form design, making it more interesting with clickable images, toggles, or gamification elements.
This method of monetization is definitely something to start forming a strategy for, especially due to:
Upcoming Features in 2021
As we've mentioned, Twitter has multiple exciting new tools in development. They present a digital marketer with so many more marketing and monetization opportunities. These include:
Utility Features
Twitter Blue | Released June 2021
The first subscription service launched by Twitter, Twitter Blue is currently only available in Australia and Canada. While Twitter has assured that the app will remain free to use, paid subscribers for Twitter Blue will enjoy added user experience features.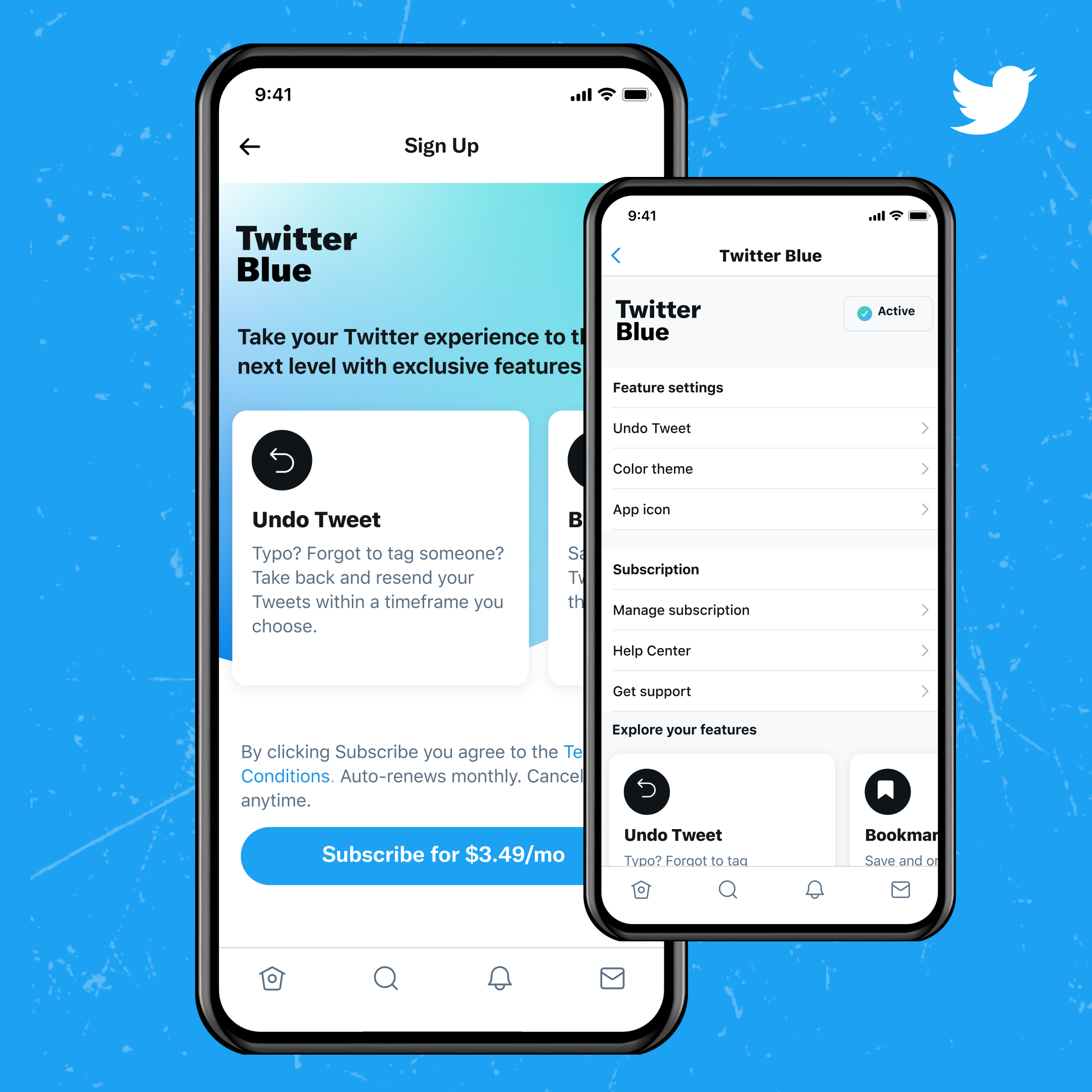 Organisational feature "Bookmark Folder" helps the user to efficiently navigate around saved content. Whereas "Reader Mode" converts long threads into a seamless viewing experience, great for decluttering long texts. A hot favourite request over the years, "Undo Tweet" does literally that, providing a custom set 30 seconds timer to correct any mistake that will end up the timeline, saving one from embarrassment. Additionally custom app icons and more colour themes will be made available. Although the latter is already free to use in desktop versions, users will also get dedicated support for the platform.
As Twitter Blue is still a fresh release, expect more enticing new features and updates to come.
Spaces | Released May 2021
In a bid to enhance engagement and broaden its functionality, Twitter has finally made Spaces available for accounts with at least 600 followers. The live audio conversation equivalent of Clubhouse, Spaces brings to Twitter live hosting experiences for both Android and iOS devices. The only downside would be its 600 follower restriction, to retain a little of Clubhouse's exclusivity factor. However for much of the populace of Android users, Spaces would be the next alternative to Clubhouse.
For those who prefer reading captions than listening in, Twitter has also added the accessibility of captions in Spaces. Although, the option is still being fine tuned to improve accuracy and synchronization, amongst others.
Communities | In development
In February, Twitter announced a Facebook group-like function called Communities. It was datamined to take the form of a page, with a home feed and about tab. This function will enhance user experience on Twitter, allowing like-minded audiences to find each other, congregate, and hopefully, become more accessible in a marketing sense as well.
Email Newsletters | In development
Lead generation and email marketing is highly likely to grow even further on Twitter, considering recent developments. As of the end of January 2021, Twitter announced their acquisition of Revue, a service for starting and publishing email newsletters. Currently, Revue is still a standalone tool. However, Twitter has made known their intention for more seamless integration with their platform, enabling easier subscriptions, hosting of conversations, and audience-based monetization.
Business Features
eCommerce | In development
In a report by Hootsuite, it was found that 76.8% of global internet users bought a product online in 2020,with 44.8% using social media to search for brand related information. With the rise of eCommerce in social media, particularly Facebook and Instagram shops, Twitter refuses to be left behind. In its Analyst Day presentation, Twitter has confirmed that various ecommerce features are undergoing tests.
Purportedly this could result in a new Twitter Card for eCommerce featuring a 'Shop' call to action button to a transaction landing page.
Professional Profiles | In development
As mentioned by marketer Neil Patel,a brand's social media profile is usually the first result that appears during a google search. Hence it is essential to regard a profile much like a website's landing page. Further optimization will soon be possible, with the announcement of Twitter's Professional Profiles.
Professional Profiles are a new tool that will allow businesses, non-profits, publishers, and creators — anyone who uses Twitter for work — to display specific information about their business directly on their profile. Information from address, opening hours and even business category will be shown on the new profile, completed with a verification badge. While this might just be in testing, it would be interesting to see how well it synergises with other new features Twitter might have to offer. One could certainly see an eCommerce benefit in this.
Monetization Tools: Tip Jar & Super Follow | Launched
Excitingly, Twitter is currently working to introduce monetization options to the platform. Purportedly, new buttons will be featured – 'Tipping' to accept donations directly and 'Super Follow' that introduces a new way to incentivise subscribers with add-on options. The latter seems to function as an inbuilt Patreon platform, with users being able to set tiers and get payment directly from their fans and followers.
Monetization is not a new concept so far in the realm of social media, with Instagram and Youtube already having established programs and seemingly newcomer TikTok in the fray with Creator Fund. It seems Twitter is eager to catch up. The introduction of a tip jar is especially interesting and highly fitting, considering how popular crowdfunding and donations are on the platform.
Creative Features
4k Resolution | Released April 2021
The option to upload quality pictures is always a plus especially for compelling imagery. After testing, Twitter has finally enabled the option to upload and view up to 4k resolution tweets for both Android and iOS devices. In addition, much to the happiness of online artists, there will no longer be previews cropping images to a fixed dimension. Simply update image preferences in settings to start enjoying the finest details.
Fleets Update | Released April 2021 Removed August 2021
Alongside quality 4k imagery, Twitter has added new features for Fleets, the equivalent of Instagram Stories. The ability to add a background video or image in Fleets introduces a great many more creative possibilities. However, the lack of AR is still a downside in what could have been a significant update to Twitter's tools.
But with all things said and done, with Fleets taking the top of the feed literally, it does enhance the creative offerings users and marketers alike can play with. Check out some applications by Twitter designer @shuangsta here.
---
So many new updates, so many possibilities. The Twitter of 2021 and beyond is rife with opportunity. Are you already prepared?
Marketer, publisher, or affiliate, it's important to stay on the ball and ahead of the curve to maximize returns. Start including Twitter into your marketing and monetization strategy, or if it already is, start planning how to adapt it and include their upcoming developments. As we know, early adopters have the advantage, and dibs to a significant piece of the market pie.
Stay tuned for more exciting marketing updates and strategic guides with us!
Direct Affiliate is a direct advertiser & affiliate network specializing in Europe campaigns. Get top CPA COD Nutra, eComm and Education offers with us! Check us out on Facebook, Instagram, Twitter and LinkedIn.
All rights reserved by Direct Affiliate & BENEFIT Pte. Ltd.